Year Four
Year 4 at Oakfield Primary Academy is home to 62 lively and enthusiastic individuals! We are fully prepared for a year of hard work, with plenty of rewards along the way!
Miss Hannan is the teacher in Turtle class.
Mr Burrows is the teacher in Stingray class supported by Miss Young as their Learning Support Assistant.
Autumn 1
Our first topic this year is 'Potions'! We have already got off to a whizzing start this year reading 'George's Marvellous Medicine' by Roald Dahl and creating our own marvellous medicines!
We had lots of fun making our own potions and spells. We even created artwork by blowing bubbles in paint to create bubbling cauldrons.
We also wrote our own newspaper articles about grandma (from George's Marvellous Medicine) growing through the roof!
We have also performed some poems in class. We looked at some poems from George's Marvellous Medicine. We got into small groups and performed them in front of the class. Take a look at some of our pictures!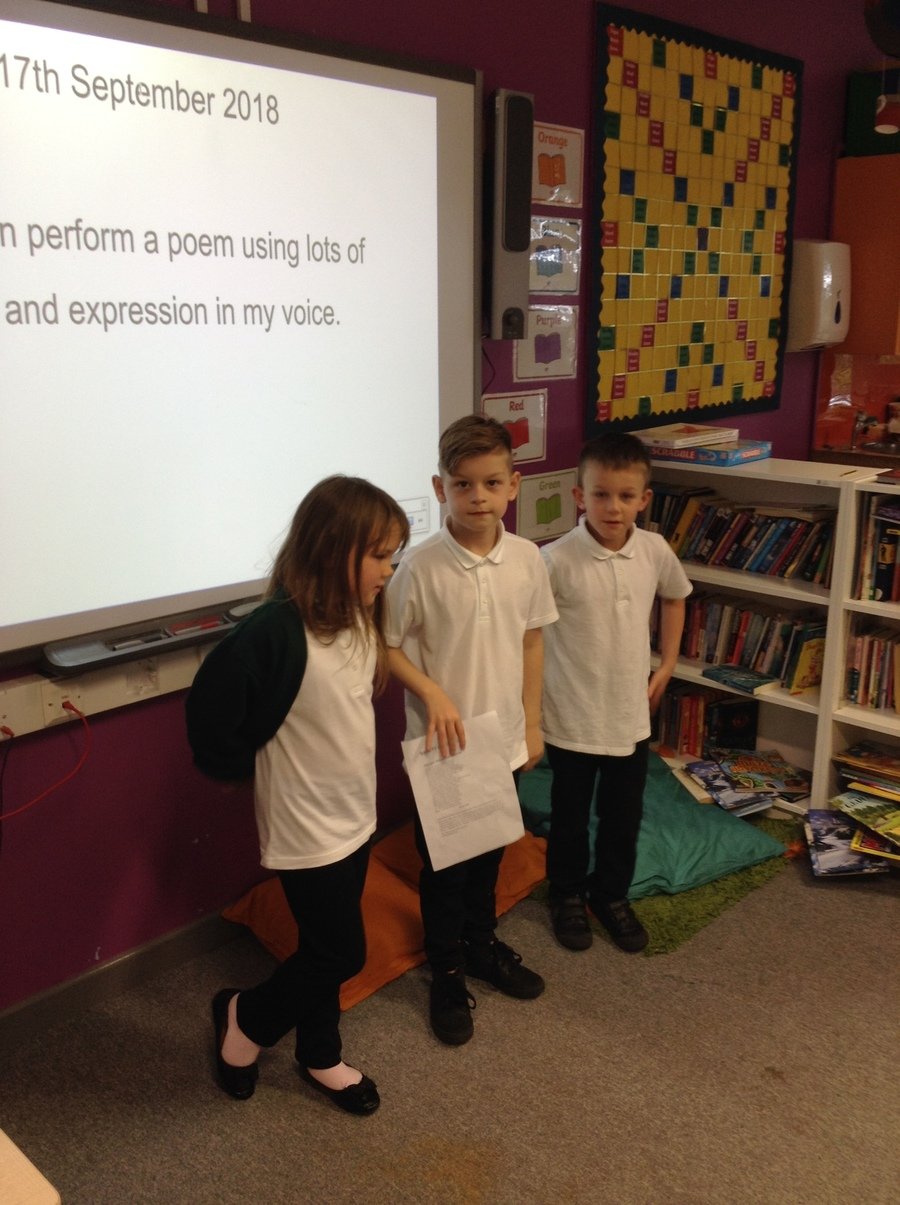 In our science lessons we have been learning all about states of matter. We had a great time shaking up bottles of fizzy drinks to find out if gas has a weight.
On 13th September, Year 4 celebrated Roald Dahl's birthday by taking part in some exciting writing lessons. We learnt all about Roald Dahl's history and how he became a fantastic writer. We also learnt a bit about Quentin Blake and we even created our own book covers in the style of the artist.
Here are some questions to think about at home, related to our Roald Dahl day.
Do you have any Roadl Dahl books at home?
Which is your favourite?
Have a look on the Roald Dahl website for more information and fun activities you can do at home.
Autumn 2
Year 4's second topic was called Playlists. it was a very fun and exctiting topic because it was based on music. We learnt all about the Sound Collector poem. We even performed and acted out the poem to the rest of the class. In addition, we also wrote our own version of the poem which can be found in our purple discovery books. In our poems we used many great features such as rhyme, repetition and onomatopoeia. Have a look at some of our pictures below. They show our sound collector poem performances.
As a year group, we have been lucky enough to have some Rugby School students visit us to show us some very cool science experiments. We have looked at different elements and their atomic structure. Take a look at some of our pictures which show some amazing things we have been doing in science.
Spring 1
This term, year 4 have been learning all about the Romans. They have learnt a lot so far including all about Roman living, Roman soldiers and their daily life, what it would be like to be a Roman gladiator and they have also learnt about Boudicca and her revolt. Another interesting thing that year 4 have been learning about the Romans is their Gods and myths.
We studied many Roman myths including the myth of Minerva and Neptune. After we studied and discussed the myths, we were able to create our own Roman God an myth. We produced some amazing work.
In art, we have been looking at a range of Roman mosaics. We designed our own Roman mosaic and even made our own mosaics by using small squared pieces of card. In addition, we made our own Roman shield and we even painted them to look realistic.
In science, we have been looking at animals and livings things. We have classified different animals and looked at their characteristics too. Also, we went on a minibeast hunt where we looked for different invertebrates around school. We found some great things. Take a look at some of the things we found (If you're brave enough!).