Year Two
Dragonflies class teacher is Miss Wright, with Mrs Holloway and Mrs Ellis supporting in the mornings and Mrs Hart in the afternoons.
Giraffes class teacher is Mrs Williams, with Mrs Holloway as Learning Support Assistant.
Please don't hesitate to speak to us at any time if you have questions about your child's learning.
A warm welcome to Year Two!
Notices:
PE is on Wednesdays. Your child will need a PE kit in school on those days.
Homework will be given out on Fridays and is due back the following Wednesday.
Reading
A big thank you to all parents of year 2 children for supporting your child's reading at home. As well as being really fun, reading at home each day will improve your child's performance in school... and beyond! Research has shown that just 5 minutes each day makes a big difference.
Please speak to your child's class teacher or click the link below for help and ideas to try with your child at home:
https://www.oxfordowl.co.uk/for-home/advice-for-parents/developing-confidence-as-a-reader-ages-6-7/
Of course, your child also does lots of reading at school too! Please make sure they bring their reading book in to school every day.
Important Information about SATs
As you may be aware, at the end of year 2 your child will be sitting the National SATs tests which test children to see if they are meeting the expectations of the year 2 curriculum. These consist of 2 reading papers, 2 maths papers and a spelling, punctuation and grammar test. These will be taken during the school day, by class teachers and in small groups.
In order to make sure that your child is as best prepared as they can be, we have included a SATs pack for you to have a look at.
Here are some ways you can help prepare your child for these tests in May:
Look at previous SATs tests on
Reading - https://tinyurl.com/yalr4do4
Maths - https://tinyurl.com/pfqfbb2
Read the "What will my child learn in year 2?" document to better understand where your child should be

Read the Punctuation guide for parents to prepare for the SPAG test

Read with your child 3 times a week, talking about the book

Ensure your child practices their spellings every week
If you have any questions or want any resources to support your child, please speak to your class teacher.
Autumn 1 – Pirates
AHOY NEW SHIPMATES!
Welcome aboard for our first topic of Year 2 – Pirates!
We started the year with a visit from Captain Dan, who told us all about life as a pirate on the seven seas. He taught us all about the different ships that they sailed on, the weapons that they used and how they survived in horrible conditions on board.
Did you know that pirates used to keep pigs on their ship to make bacon?
Or that pineapples were considered a type of treasure?
Neither did we!
We learnt about famous pirates like Captain Blackbeard and were excited to hear about famous female pirates such as Anne Bonny! We created pirate portraits and treasure maps using our art skills and range of different materials.
In our Literacy lessons, we used our 'Pirate' theme to write a range of texts such as non-chronological reports on life as a pirate, diary entries from a stranded pirate and wrote our own versions of 'The Pirate Cruncher' story.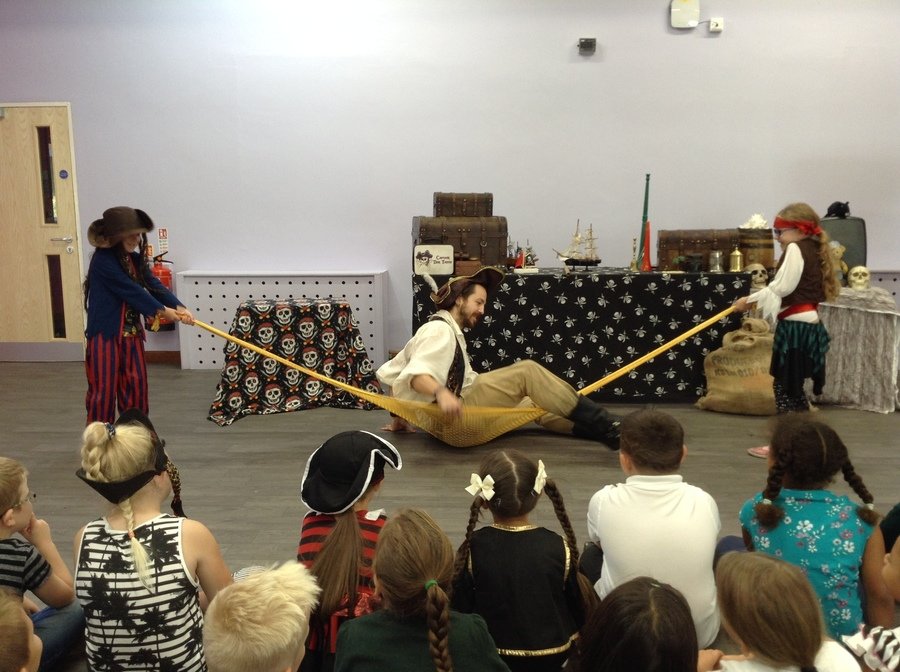 Maths
In Maths we have been learning about numbers to 100 and how we can represent them using tens and ones. We then moved on to learning different methods of adding and subtracting two 2-digit numbers, including counting on and adding on in tens. We were finally challenged to use column methods to find our answer and even learnt how to do this using renaming.
Autumn Term 2 - Street Detectives!
Literacy
In Literacy this half term we have been looking at the story of 'Jack and the baked beanstalk' which is an unusual version of the traditional tale Jack and the beanstalk. We used this text to learn how to write diary entries, writing from different perspectives as well as developing our narrative skills. We have been using lots of our reading skills to make inferences about the story and also predictions about what will happen next. We listened to the story with anticipation as we read small sections of the story each day! Some of us however, couldn't wait and read the story when we got home!
Maths
We have covered the topics of multiplication and division of 2, 5 and 10. We learnt lots of different methods to solve calculations and then used these when answering tricky word problems. We listened to mulitplication songs to try and learn our times tables to help us with our recall of times table facts.
We moved onto learning how to measure the length of objects, we looked at measuring in centimetres (cm) and metre (m) learning which is bigger and which is the smaller unit of measurment. We practically measured items in our classroom and then had to estimate how long we thought some objects would be. We used our knowledge of the measurements to make estimations of different everyday objects.
Theme
We looked closely at what makes Rugby town famous and created a historical timeline of Rugby history. We also looked at famous landmarks that we knew in Rugby; such as the William Webb Ellis statue, Rugby School and the clock tower. We looked at aerial views of Rugby using google earth and experimented with google maps to track our journeys to school. We sketched our favourite landmark of Rugby, using sketching pencils to add specific details. Later in the theme, we moved onto looking at our school grounds, we created a physical map of our school grounds, pay close attention to location of specific school features such as; the play ground, car park and goat area.
Spring 1 - Towers, Turrets and Tunnels.
Hello knights of the round table, welcome to another exciting and dramatic term in year 2! The SATs are looming, so prepare yourselves for battle.
We began our term by braving the freezing cold winter mornings and enjoyed a trip to Warwick castle! We were all very excited, albeit a little bit cold! We learnt lots of amazing facts about attacking and defending castles and the lengths they would go to, to defend themselves. Did you know, soldiers used to drop hot poo through murder holes to stop their enemies in their tracks. We returned to school, full of knowledge and insight into the life of Lords, ladies, servants and many others.
Literacy
We used our skills and knowledge of instructional writing to write instructions on how to catch an unruly dragon on the loose. We had to include imperative verbs, time conjuncations and adverbs.
We wrote a recount of our trip to Warwick castle; making sure we used past tense, interesting adjectives, conjunctions and gave our thoughts and feelings on whether we enjoyed the day or not.
Coming soon - Evidence of our amazing work!
We moved on to plan and write complaint letters, written as a servant who lives in a castle! Some of us were absolutely disgusted to find out how badly they were treated in medieval times. Can you imagine sleeping on the cold, stone floor?
We finished the half term by looking at poetry. We've worked hard to understand what a poem is, what rhyming words are and also alliteration.
Maths
We've studied hard looking at measuring this half term. Focussing on mass and temperature. We've learnt how to read scales, using different increments, as we had to learn how to balance a scale if one side had more or less than the other. We then applied these skills in relation to worded problems.
We have just moved on to beginning to look at pictorgrams!
Theme
We have looked at features of a castle, by labelling the different defensive features. We learnt all about towers, turrets, drawbridges and murder holes! We looked at the jobs within a castle and how different people would have been treated during medieval times. We carefully sketched our own castles, following instructions we were given, some of us were amazed by what we had prodcued at the end! More recently, we designed our own coat of arms, we had to think about what we would want on our coat of arms as in Medieval times what was on there represented the type of person we were. Towards the end of this half term we have been learning all about the Battle of Hastings, we learnt when it happened, who was there and most importantly who won! We had to retell the story of the Battle of Hastings and we have written recounts as someone who was there.