Happy Easter everyone!
Have a lovely Easter break. Eat lots of chocolate, play lots of games, share lots of love and laughter with your family. Stay safe and stay indoors.
We love you all very much and miss your smiley faces.
Lots of love, Miss Lowe, Miss Williams and Miss Davies.
Week 3 Monday 6th April
Hello lovely Ladybirds!
I miss you all! Don't forget I'm still your teacher.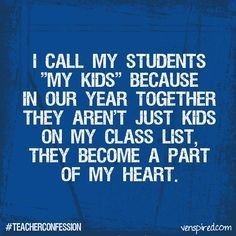 This week I thought 'Rainbows' would be an appropriate theme.
Why are people putting rainbow pictures on their windows?
Quite simply, people have been putting the colourful pictures on their windows to cheer up passers-by. The rainbows aim to make people smile while they're walking by, and also offer a message of hope.
Rainbows are used as a symbol of peace and hope as they often appear when the sun follows a heavy rainfall. They serve to remind us that there is hope and light to follow even after dark times. The current trend appears to have started in Italy but has also been adopted by the US, Canada and Spain, where people have adorned their windows and balconies with colourful pictures.
If you go for a walk with your family when getting some exercise, have a look and see how many rainbows you can see?
So let's have a look at some of the following ideas……
Rainbow Story
Here is a link to a story about a rainbow.
https://www.youtube.com/watch?v=yY6WiL_P1qY
What did you like most about the story?
What was the little boy wearing?
What game did the little boy want to play?
Where did he hide?
Why did the rainbow disappear?
Can you draw and colour a rainbow?
Rainbow Song
Here is a link to the 'Rainbow' song we learn at school.
https://www.bbc.co.uk/teach/school-radio/nursery-rhymes-i-can-sing-a-rainbow/zn3tqp3
Rainbow Necklace
Maybe you could make a rainbow necklace?
You can use rainbow cheerios and thread them onto strawberry laces with some marshmallows?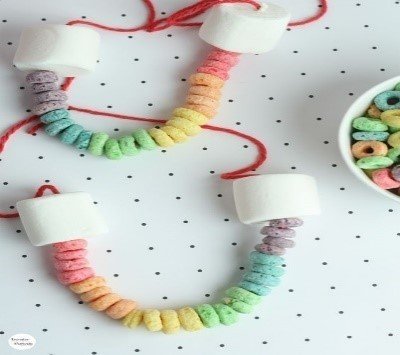 Or make a picture with the cheerios in the shape of a rainbow?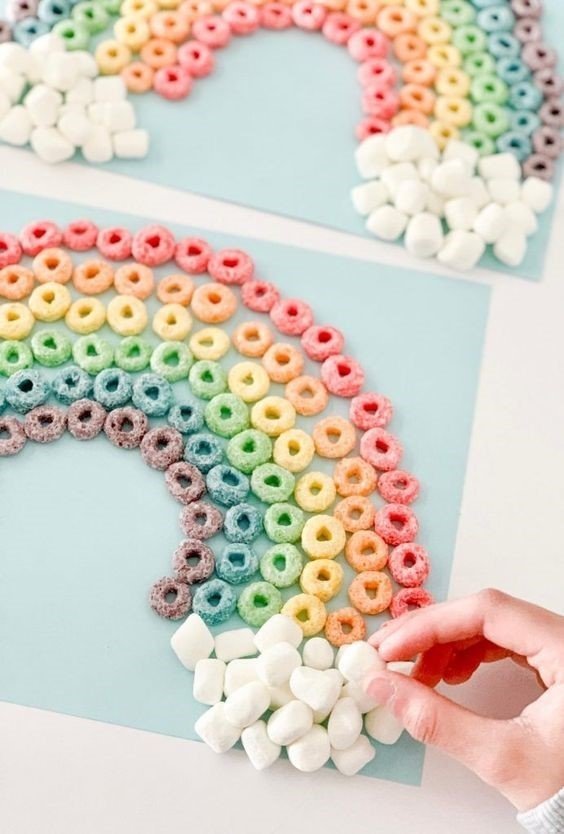 You can make a rainbow with a 'potato masher'!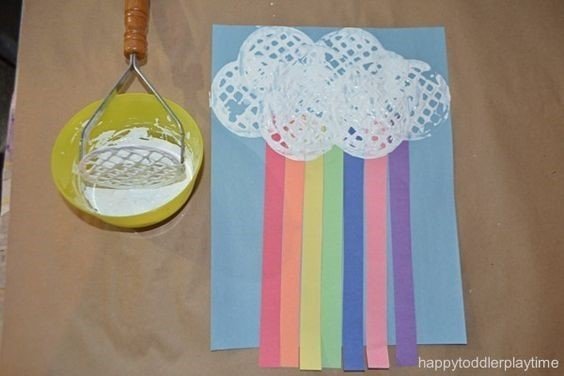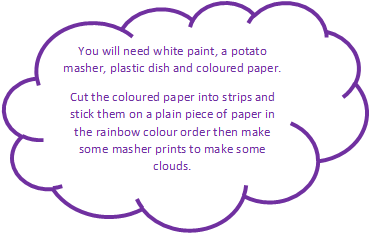 Here are a few more ideas if you want to make lots of different rainbows.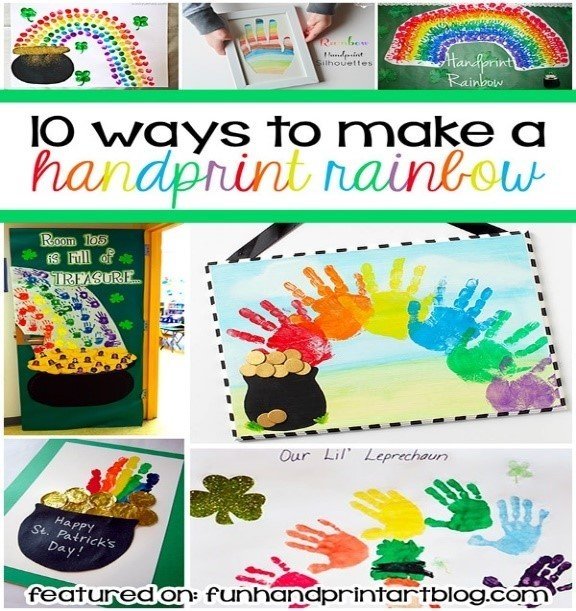 https://funhandprintartblog.com/welcome
When you are happy with your creation, why not display it in your front window?
Rainbow Cooking ideas
Vegetable pizza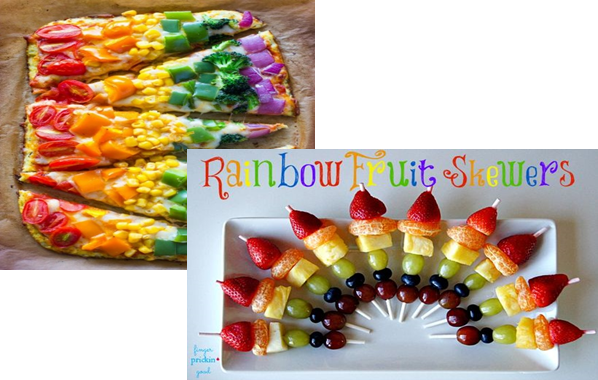 Rainbow Game
Here is a game you can play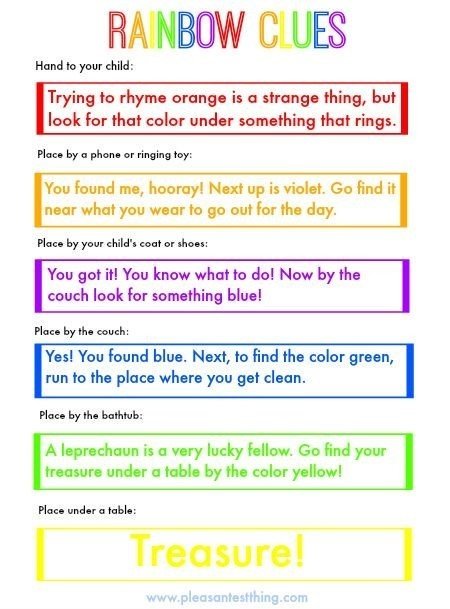 I wonder if you could try this colourful rainbow experiment?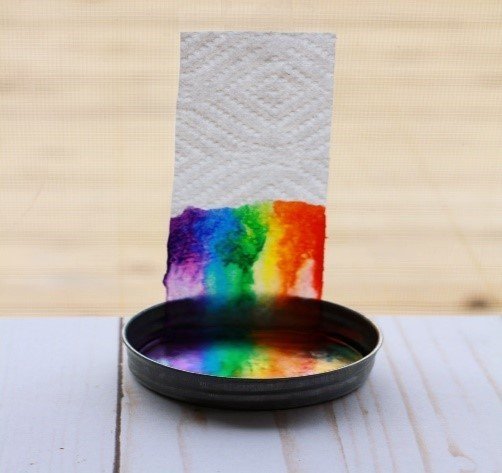 Cut a strip of paper towel, on a short edge, use markers to make a strip of blocks in the colours of the rainbow. Let the marker dry. (I found that if the paper towel is still wet with the ink the experiment does not work as well!) The next step can be done two different ways. You can tape the top of the paper towel to a vertical surface and put only one end in the dish.
Or you might want to create an arch using a small wooden pencil? Rest it lengthwise across an empty sandwich sized plastic container. Drape the paper towel strip across the pencil with the coloured edges just touching the bottom of the container. (This way requires both short ends to have coloured edges.)
Gently pour water into the bottom of the container and watch what happens!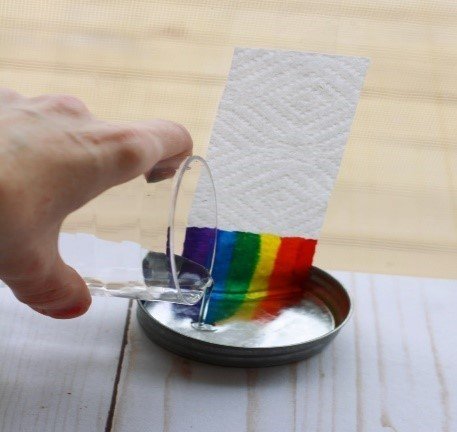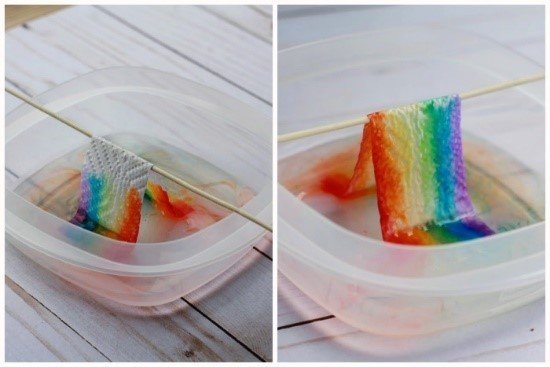 'Special Book'
Can you find or make a special scrap book about your time at home?
Cut up some pictures or draw some pictures to show me what you have been doing?
Maybe you can ask an adult to take some photos of the things you have done?
When you come back to school, you can share your special book with us and your friends?
I am sure we will all have lots to share?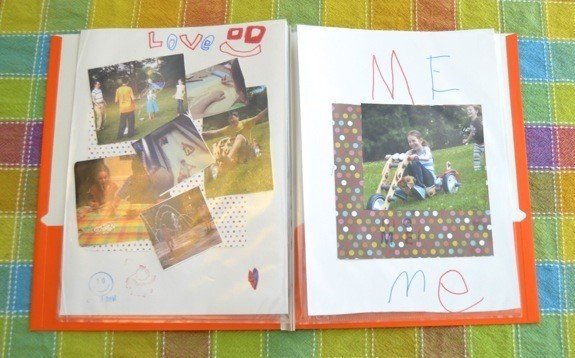 Don't forget!...........
All the above ideas are to help you keep busy and they are things for you to enjoy. Please, please, do not feel that you have to do them.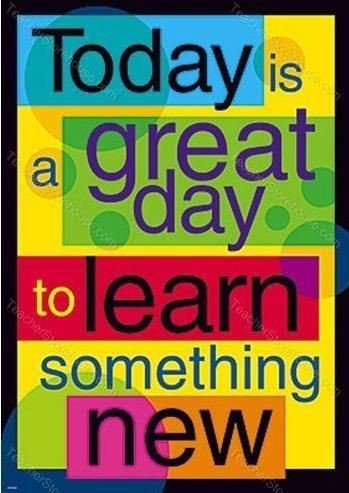 Week 2 Monday 30th March
Hello lovely Ladybirds!
Welcome to week 2 of our 'Home Learning'. This week we are going to practice our phonics and letter formation.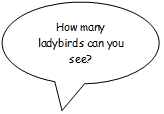 I wonder if you can remember how to write your name? Keep trying……. I know you can do it!I
Can you try and find a cardboard box? You can decorate it with a letter from your name. Now see how many things you can find around the house that begin with that letter and collect them in the box. Maybe you could ask an adult to take a photo of your lovely box? I wonder if you can do the same with other letters you know and see how many boxes you can make?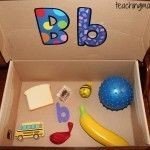 Maybe you could make some letters with pipe cleaners?
You could try and make your name with the pipe cleaners?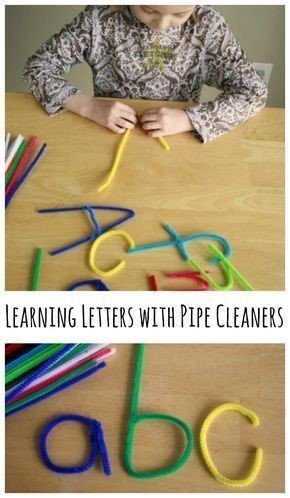 To develop your fine motor skills, try threading the pipe cleaners through a colander or some cardboard tubes with some 'ready made' holes (an adult can do this for you). If you haven't got pipe cleaners then you can use dried spaghetti or straws.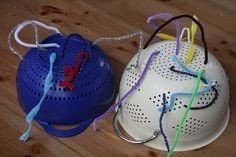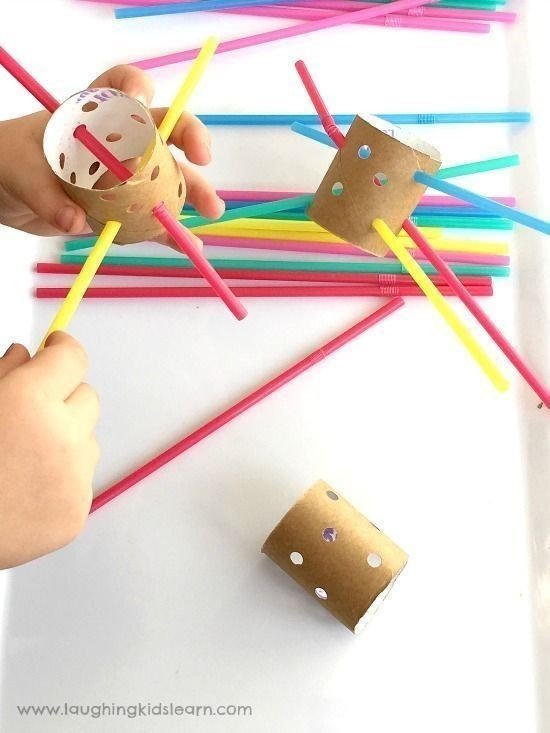 Here are some useful websites for more activities.
https://www.totschooling.net/2017/09/letter-review-alphabet-worksheets.
https://thekindergartenconnection.com/free-prewriting-worksheets/
Can you form some recognisable letters in a tray of sand or maybe write your name?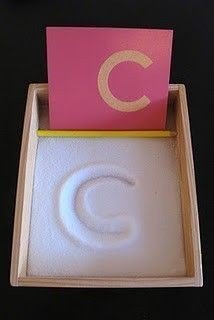 You can use your finger or a clean, dry paintbrush.
If you don't have any salt, you can use shaving foam instead!
Try making some pictures. I bet the adult in your house would like to have a go! Don't forget to put an apron on or wear something that protects your clothes!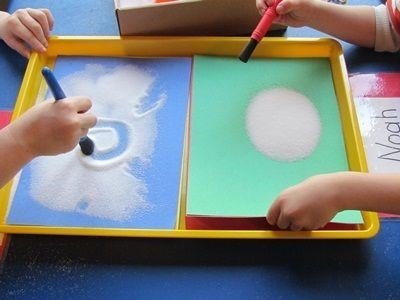 Maybe the adult can draw some simple patterns for you to copy? How about making up your own patterns for the adult to copy?
Here are a few ideas to help you!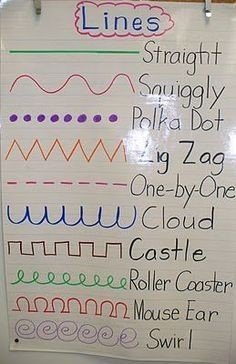 Time for some number fun!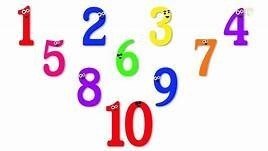 Let's try some number recognition activities!
This is a simple activity that you can adapt. Here is an empty egg box and some ping pong balls. You could try writing the numbers on the the ball (this might be tricky so please ask an adult to help). Match the numbers on the ping pong balls to the numbers in the egg box and see if you can scoop the balls up with a spoon and place them into the correct place? Try not to drop the balls!
To add a challenge to this activity, maybe you could challenge a sibling or an adult? Then you could use a 'stop watch' or a 'timer' to see if you can 'beat the clock'? How fast can you do this activity?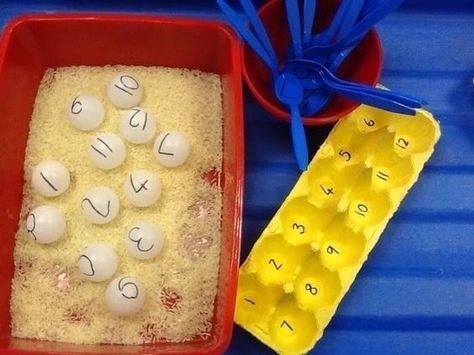 If you want to play outside in the garden, and it's a dry day then see if you can draw some numbers with chalk on the floor then use a paint brush with water to follow the number shapes. Do the chalk numbers disappear?
This website might be useful for some number recognition ideas.
https://www.totschooling.net/2017/10/number-recognition-worksheets.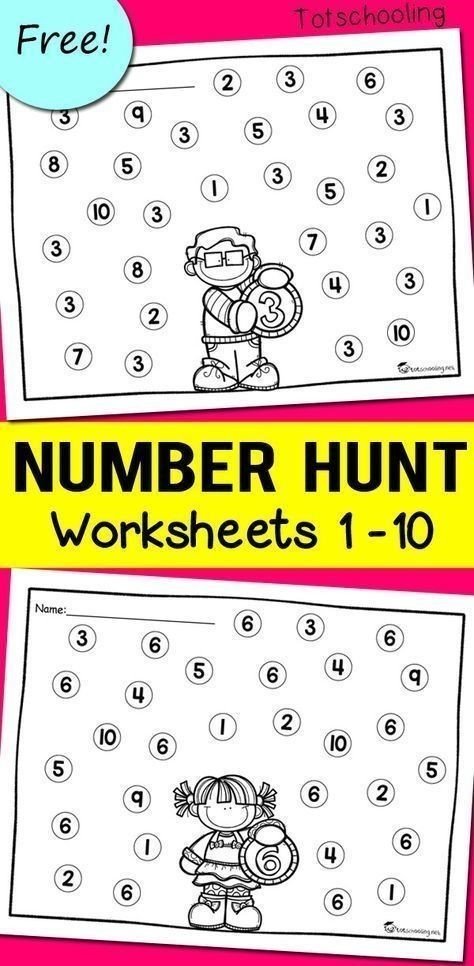 I thought these cooking activities looked interesting!

Animal face toast
I wonder how many different fruits you can use to put on your toast? What's your favourite spread to use? What's your favourite fruit? Could you use some vegetables instead of fruit? Can you use a knife safely to spread and cut? Which animal face tastes the best?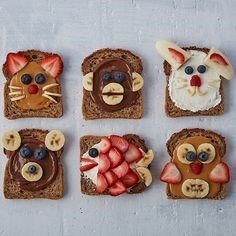 Can you make this Octopus pizza?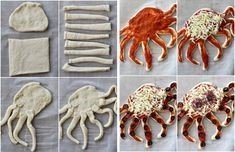 This is a simple and easy cooking activity.
Use your fine motor skills to make the different shapes.
What shapes did you use?
How many legs does your Octopus have?
Who are you making the Octopus for?
Enjoy!
https://supersimple.com/article/octopus-pizza/?utm_source
Don't forget to ask an adult if they can take a photo for you so that you can show me at a later date!
Something to think about!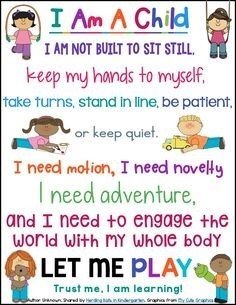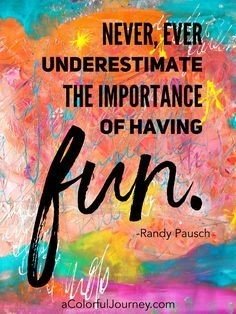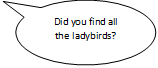 Week 1 Monday 23rd March
If we were in school over the next few weeks we would be learning about 'Growing' and we would have been spending more time outside.
If we were in school over the next few weeks we would be learning about 'Growing' and we would have been spending more time outside.
There are a number of books that you can share that are useful on this subject.
'Yucky Worms'

by Vivien French
'One Mole Digging a Hole'

by Julia Donaldson
'Sun Flower Shoots and Muddy Boots'

by Katherine Halligan
'Alfie Outdoors'

by Shirley Hughes
'I Can Grow a Sunflower'

by RHS
'Eddie's Garden'

by Sarah Garland
'Titch'

by Pat Hutchins
'The Very Hungry Caterpillar'

by Eric Carle
There are activities that you can do in the garden or even indoors. Here are a few ideas:-
Please dig with your child in the soil. Children love to dig. They love to explore and investigate as they dig. Children are curious about nature.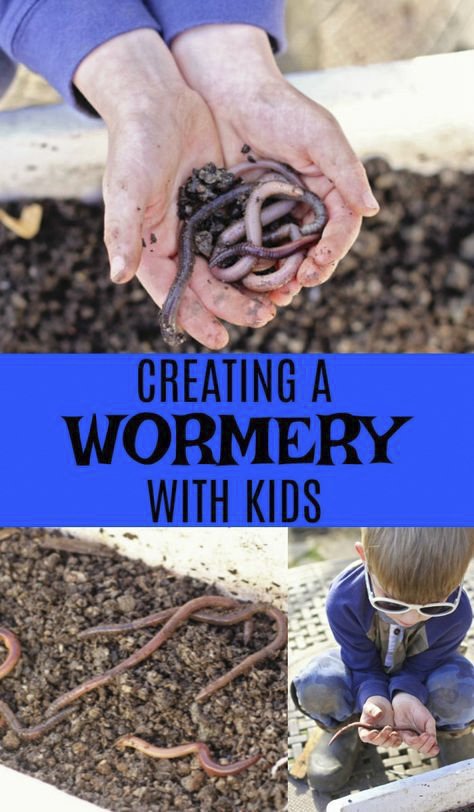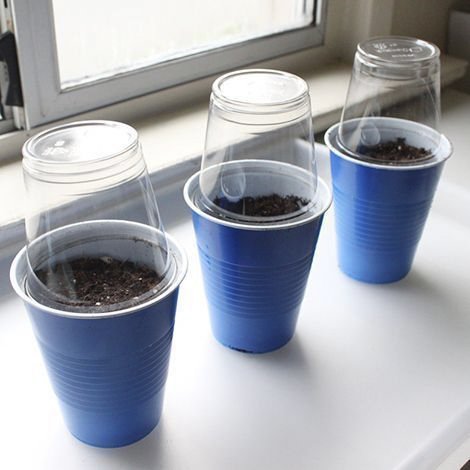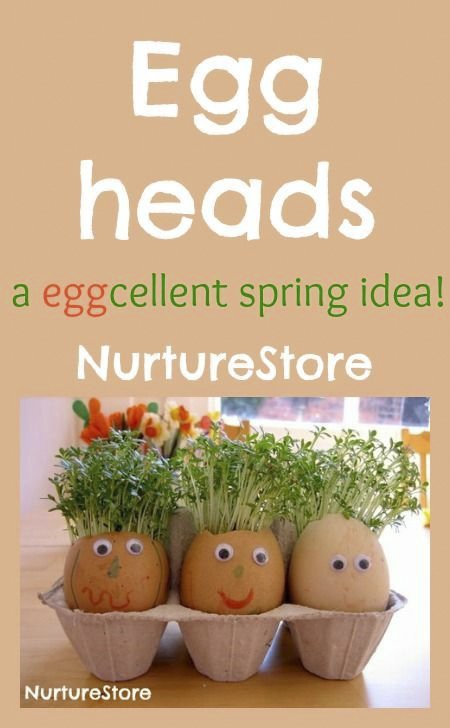 Play-Dough
If you would like some quiet time then please try my play-dough recipe. It is so easy to make and keeps for a week in an airtight container.
Ingredients
3 cups of plain flour

3 cups of freshly boiled water

1 packet of jelly

1 1/2 cups of salt

6 teaspoons of cream of tartar (the magic ingredient!!)

7 tablespoons of cooking vegetable oil

Add some poster paint or food colouring (but never use blue!!!)
[It will stink of rotten eggs for some strange reason!]
Method
When the water is boiled add the jelly and allow to dissolve

Pour all the ingredients into a bowl with the dissolved jelly

Mix it all together

Then knead the dough until it looks and feels like play-dough

Enjoy and have fun!!!
Please do not allow your child to eat the play-dough - it may smell nice but it doesn't taste good!
If you fancy a singing session, this is useful and the children know most of the songs as they have been learning them in school. This is my favourite to use in class!
'Super Simple Songs'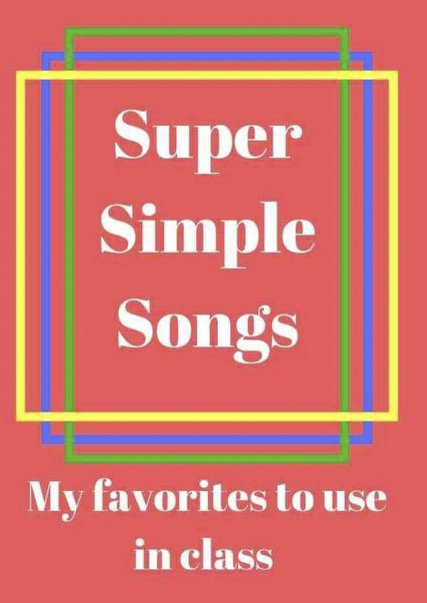 Please keep watching the website as I will add more as time goes on.
Stay indoors as much as you can and stay safe.