We are delighted to share the information below giving details of the CSW Virtual School Games Competitions which launch on Monday 11th May, starting with athletics and then followed by cricket, tennis and dance.
The athletics competition starts at 9.45am on Monday 11th May and ends at 1pm on Friday the same week.
PRIZES ARE AVAILABLE for individuals and schools! Parents can enter their children directly and schools can also place entries.
The competitions are open to ALL children.
How does it work?
The CSW Virtual School Games is an opportunity for pupils to engage in competition at home whilst still feeling part of their school team. All Competitions are open to pupils from KS1-KS4.
Competitions will launch each Monday at 9:45am on Twitter with entries closing at 1pm on Friday of the same week. Pupils will have a week to practice and complete the challenges and enter the competitions through a Survey Monkey link.
Results will be announced each Friday via the @ThinkActiveCSW Twitter page at 5pm.
Competition schedule – first 4 weeks.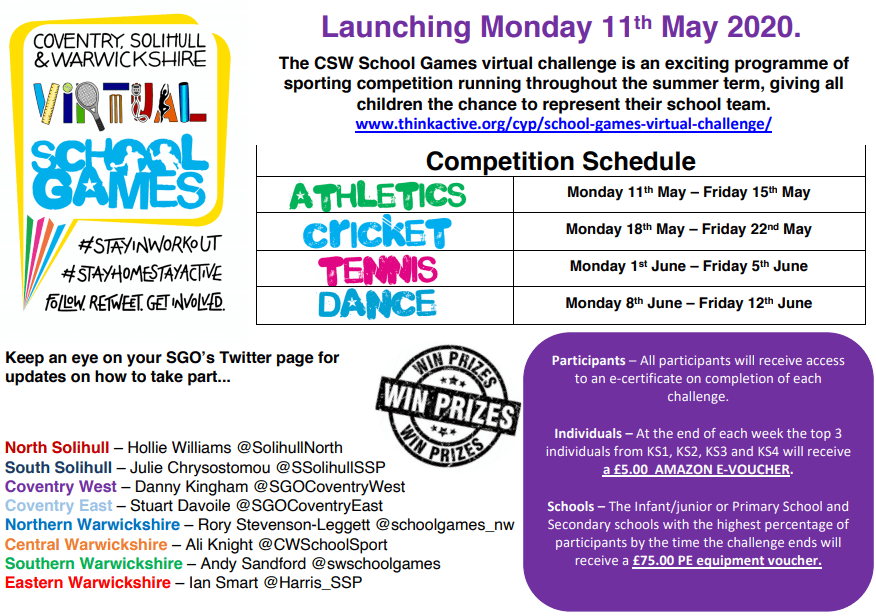 How do we/pupils enter?
Pupils direct entry - pupils/parents record the scores and enter via the relevant Survey Monkey link.
School entries – Mr Hickling will email the results spreadsheet before the deadline on each Friday.
Will there be prizes or certificates?
Yes
Participants – All participants will receive access to an e-certificate on completion of each challenge.
Individuals – At the end of each week the top 3 individuals from KS1, KS2, KS3 and KS4 will receive a £5.00 AMAZON E-VOUCHER.
Schools – The Infant/junior or Primary School and Secondary schools with the highest percentage of participants by the time each competition ends will receive a £75.00 PE equipment voucher.
Week One Athletics
Well done to all our participants and an additional well done to Joshua in Y2 who top scored for Oakfield.
To submit your child's score, you can either follow the Survey Monkey link in the document, or you can email Mr Hickling (Hickling.M1@welearn365.com) who will submit it on your behalf.
Week Two Cricket
Well done to all our participants and an additional well done to Lily in Y5 who top scored for Oakfield.