We are proud of ourselves. We are proud of each other. We are proud of our community.
Introduction
This policy was developed from consultation with staff, governors, parents and pupils. The policy follows the recommendations and principles set out by the Department of Education:
https://www.gov.uk/government/publications/behaviour-and-discipline-in-schools
AIMS
It is a primary aim of our school that every member of the school community feels valued and respected, and that each person is treated fairly and well. We are a caring community, whose values are built on mutual respect for all. The school behaviour policy is therefore designed to support the way in which all members of the school can live and work together in a supportive way.
At Oakfield we treat ourselves, each other and our community with RESPECT.
This is our one school rule.
It aims to promote an environment where everyone feels happy, safe and secure. We promote 'Hands off!' play and 'Stop it! I don't like it!' communication.
Pupils who are recognised as showing respectful behaviours in all of their interactions with peers and adults alike in school can be awarded a 'Respect Badge' which shows that they are always following our school rules.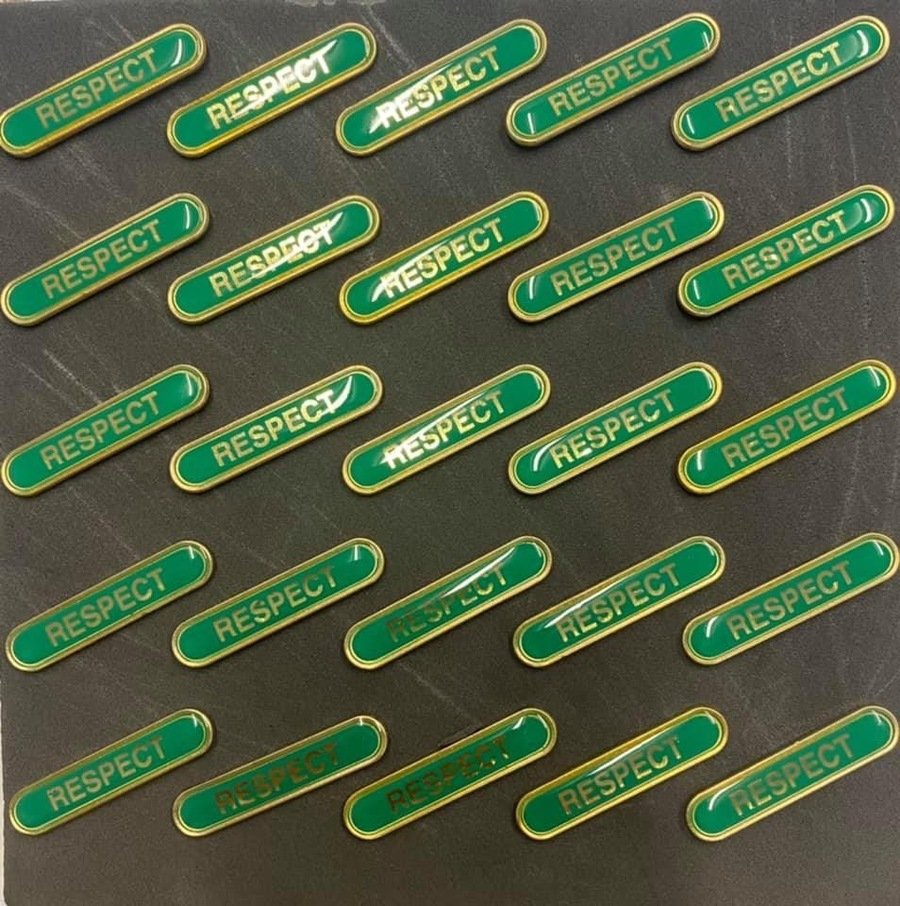 The primary aim of the behaviour policy is not a system to enforce rules. It is a means of promoting good relationships so that people can work together with the common purpose of helping everyone to learn and play. This policy applies to all pupils, including those with Special Educational Needs and/or Disabilities.
Children, as adults, make choices and our aim is to ensure that the choices they make are good choices. As a result of this, they will reach an understanding that all actions have consequences.
Children will be taught to self-manage their behaviour and staff will give them time and support to reflect on their behavioural choices. The aim is to stop reoccurring behaviours especially those that disrupt their learning, play and the welfare of others.
Praise is key to nurturing motivated, engaged children who make good choices and consequently build positive relationships. Throughout school, all stakeholders (not just staff, but pupils, parents and visitors) should aim to 'catch' good behaviour. Children and adults alike need to feel appreciated and we all respond better to a positive comment.
Roles, Rights and Responsibilities

-

Pupils
It is the responsibility of pupils to make good choices adhering to our school rule of RESPECT.
Staff
All staff in our school have high expectations of the children in terms of their relationships, choices and behaviour.
A key priority is to reward and praise good choices in order to reinforce good behaviour.
With these principles in mind, specific responsibilities of the class teacher are to:
Adhere to school policy and guidance.

Praise children on individual/group basis (public praise is very powerful), making explicit why, what rule they have followed, or what choice they have made

Be consistent.

Treat each child fairly and with respect and understanding.

Be a positive role model by demonstrating positive relationships with everyone in school.

Keep a record and any relevant notes of any persistent or serious incidents of negative behaviour (see behaviour log).

Having followed regular procedures and consequences, seek help and advice from a colleague e.g. a member of SLT.

Liaise with external agencies, as necessary, to support and guide the progress of each child e.g. discuss the needs of a child with a social worker where appropriate.

Report to parents about the child's social and emotional aspects of school life, including behaviour and relationships.
Senior Leaders
In addition to the above, it is the responsibility of senior leaders to:
Support the staff by implementing the policy and by setting the standards of behaviour.

Implement this policy consistently throughout the school, and to report to governors, when requested, on its effectiveness.

Ensure the health, safety and welfare of all children in the school.

Maintain record of reported serious incidents of misbehaviour
Parents and Carers
The school works collaboratively with parents/carers so children receive consistent messages about how to behave. We aim to build a supportive dialogue between the home and the school. We inform parents/carers immediately if we have concerns about their child's welfare or behaviour – this includes if there is a pattern of regularly receiving reminders.
We expect parents/carers to:
Be aware of our policy and support its implementation

Be clear of the school's systems for rewards and sanctions

Work collaboratively with the school

Support the school's decision when applying consequences to deal with any specific incident/issue
Headteacher
It is the responsibility of the Headteacher, under the School Standards and Framework Act 1998, to implement the school behaviour policy consistently throughout the school, and to report to governors, when requested, on the effectiveness of the policy. It is also the responsibility of the Headteacher to ensure the health, safety and welfare of all children in the school.
Local Governing Body
The Local Governing Body has the responsibility of setting down these general guidelines on standards of discipline and behaviour, and of reviewing their effectiveness. The governors support the Headteacher in carrying out these guidelines.
The Headteacher has the day-to-day authority to implement the school behaviour and discipline policy, but governors may give advice to the Headteacher about particular disciplinary issues. The Headteacher must take this into account when making decisions about matters of behaviour.
Rewards and Praise
Praise is key to nurturing motivated, engaged children who make good choices and consequently build positive relationships.
The methods by which we reward and praise pupils include:
Instant Rewards and Praise Strategies

Verbal Praise

Stickers

Displaying work/sharing work on the visualiser

'Marshmallow claps' and other such fun phrases

'Thank you so much for…'

'I can see that you are…'

Non-verbal praise – 'thumbs up'

Pot of Gold/Proud Cloud

Pupils will move up (never down) the visual positive reinforcement as a way of motivating pupils and celebrating achievements (not as a public embarrassment/shaming method). This will be used as a motivator for effort and attitude to learning. At the end of each week if a child is on the Pot of Gold/Proud Cloud they will receive a Certificate to take home the same day (Friday).

Credits: Bronze, Silver and Gold Certificates

Credits will be awarded for academic achievement.

Star of the Week

This weekly individual reward will be awarded to pupils by their class teacher when they demonstrate the key values in our 'PROUD' motto. A pupil will be chosen in every class each week.

Respect Badge

This weekly individual reward will be chosen by all staff collaboratively and given to a pupil who have shown consistent respectful and 'PROUD' behaviour.

Proud on the Playground Award

This year group award will be awarded each week for the group of children who have shown very respectful behaviour whilst on the playground, adhering to all school rules and expectations. This group will receive an extra 15-minute playtime.

Feel Good Friday Phone Calls

Each week, staff will nominate individual pupils who have shown exceptional attitude, behaviour and learning. Once nominated, the Headteacher will complete a telephone call to the parents/carers to celebrate the successes of the child.

Community Commendation

This award will be given to a pupil who has been nominated by a member of the school community for 'PROUD' values. This is a very special and rare award.
Sanctions, Prompts and Consequences
Children, as adults, make choices and our aim is to ensure that the choices they make are good choices. As a result of this, they will reach an understanding that all actions have consequences.
Children will be taught to self-manage their behaviour and staff will give them time and support to reflect on their behavioural choices.
The methods by which we address disrespectful behaviour and consequences we use:
Non-verbal cues/signals

Quiet reminders

Non-verbal use of 'Pot of Gold/proud Cloud' as a visual reminder

Draw into the lesson/activity

Thank individual for making the right choices (just before they do)

Praise those displaying good behaviour

Clear expectations

Strategic choices, time to consider without audience
Where pupils present repeated disrespectful behaviour, a staged approach will be implemented by all staff in school. This approach provides pupils with a choice to make a different choice and avoid escalation.
Stage 1: FIRST REMINDER 'This is your first reminder. I expect you to… Thank you.'
Stage 2: FINAL REMINDER 'This is your final reminder. I expect you to… Thank you.'
Stage 3: TIME OUT child to be given time to reflect outside of the classroom. 3-minutes maximum – return to classroom/playground. 5-minute loss of free-time. Teacher to record on Arbor (school's management information system).
Stage 4: RELOCATION Phase/Senior Leader support requested. Child to complete their learning/take time out to reflect under the supervision of the senior leader. Parents informed by class teacher. Teacher to report on Arbor inc communication with parents.
Stage 5: INTERNAL EXCLUSION child to complete their learning alone and without the opportunity to spend time on the playground with peers for the remainder of the day. Parents informed by Senior Leader. Senior Leader to report on Arbor inc communication with parents.
Serious Incidents
Serious incidents are categorised as 'ABCs' at Oakfield. These include, but are not limited to verbal/physical aggression, damage to school property, swearing, homophobic/racist incidents. Such behaviour would not be addressed using the staged approach; Senior Leaders would be alerted immediately and manage the resolution of such incidents. These incidents will be recorded in Arbor and, in some cases, MyConcern (school's safeguarding system).
'ABC' provides the process for investigating and ascertaining the events of a serious incident:
Antecedent(s): what happened in the lead up to this incident? What caused the situation?
Behaviour(s): what happened? Who did what? When?
Consequence(s): what happened as a result of the behaviour? What was damaged? Who was hurt?
ABC incidents, serious incidents, as categorised as:
Verbal and physical aggression/violence to peers and/or staff

Damage to school property

Repeated refusal

Absconding

Bullying (including online)

Prejudicial/offensive behaviour (including racist, homophobic and/or sexist language)

Sexualised behaviour
For such incidents, senior leaders will be in contact to discuss the situation with parents/carers. More serious sanctions may be implemented in these situations including the use of internal exclusion, fixed term exclusion and in some cases permanent exclusion (see exclusion section below).
The role of our school is to nurture and support. There will be times when children experience difficulties outside the school that impact on their behaviour. We need to keep an open dialogue between home and school and other outside agencies to ensure that our children are kept safe and are understood. All pupils will be treated as individuals, and senior leaders will apply the policy with the interests of the children at the heart of their decision making.
Fixed-term and Permanent Exclusions
At Oakfield, we adhere to the Department for Education's Statutory Guidance, 2017. Please see this at: Exclusion from maintained schools, academies and pupil referral units in England (publishing.service.gov.uk)
A decision to exclude a pupil permanently should only be taken:
in response to a serious breach or persistent breaches of the school's behaviour policy; and

where allowing the pupil to remain in school would seriously harm the education or welfare of the pupil or others in the school.
Only the Headteacher or Deputy Headteacher (in the absence of the Headteacher) may issue an exclusion. A child can be excluded for one or more fixed periods, for up to 45 days in any one school year. A child can also be excluded permanently. It is also possible for a fixed-term exclusion to be followed by a permanent exclusion, if the circumstances warrant this.
If a pupil is excluded, the parents are informed immediately, with reasons given for the exclusion. At the same time, the Headteacher makes it clear to the parents that they can, if they wish, appeal against the decision to the Local Governing Body.
When a pupil is excluded, work will be sent home to be completed, and school will expect parents to ensure that their child completes this work and returns it to school for marking and assessment by the class teacher.
The Headteacher will inform the Local Authority and the Local Governing Body about any permanent exclusion, Fixed Term exclusion over 5 days and about any lunchtime exclusion over 10 lunchtimes.
The Local Governing Body itself cannot either exclude a pupil or extend the exclusion period made by the Headteacher.
If a pupil has received a Fixed Term Exclusion, they will be offered a planned re-integration in collaboration with their parents, in order to prevent a further incident occurring in the future, as well as completing a risk assessment. This will be completed by the Headteacher (Deputy Headteacher in the absence of the Headteacher) with parents/carers and other key professionals involved in the child's education.
The behaviour of a pupil outside of school can be grounds for exclusion.
Informal' or 'unofficial' exclusions, such as sending a pupil home 'to cool off', are unlawful, regardless of whether they occur with the agreement of parents or carers.
Special Educational Needs
The school recognises its legal duty under the Equality Act 2010 to prevent pupils with a protected characteristic from being at a disadvantage. Consequently, our approach to consistently challenging behaviour may be differentiated and personalised to cater to the needs of the pupil. Those children who commonly demonstrate inappropriate or unacceptable behaviour may be regarded as having a Special Educational Need. These children may be drawn to the attention of the SENDCo (Refer to SEND policy for details of procedures).
A Positive Intervention Plan (PIP) may be produced, in consultation with the SENDCo, parents and any outside agency that may be called upon for advice. The PIP will be monitored and reviewed at regular intervals and appropriate further action taken.
Physical Restraint
All school staff are trained in Team Teach restraint techniques and if used, these incidents are recorded in the 'Bound Book' which is kept securely. Such incidents may be where a child is presenting behaviours that may cause physical or emotional harm to themselves or their peers, or staff, or may be when a child is causing significant damage to school property which could also result in harm to themselves.
Any child who is at risk of exclusion and/ or at risk of requiring such techniques will have had a risk assessment carried and is entitled to a Positive Intervention Plan (PIP) that will be drawn up with parents in consultation with the SENCO/specialist agencies. Where restraint is required, senior leaders will inform parents/cares on the same day.
Monitoring
The Headteacher and Deputy Headteacher monitor the effectiveness of this policy on a regular basis. They also report to the Local Governing Board on the effectiveness of the policy and, if necessary, make recommendations for further improvements.
All behavioural information is recorded and reviewed as part of the monitoring process. In addition, observations and pupil voice will be captured to provide additional evidence and information about the effectiveness of this policy.
It is the responsibility of the Local Governing Board to monitor the rate of exclusions, and to ensure that the school policy is administered fairly and consistently.