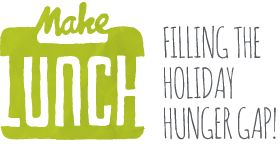 Since June 2017, Oakfield Primary Academy created a partnership with the Make Lunch Kitchen to host Make Lunch sessions during school holidays.
During Summer 2020, unfortunately we were unable to run a Make Lunch Club at Oakfield. In its place, Make Lunch made three supporting deliveries of meal kits, activity packs and craft resources. These were really positively received.
In September, Make Lunch plan to do telephone checks with each family registered with them to help to plan for the future.
At the moment, they are anticipating that they will do meal kits again in October half term.
Oakfield would like to thank Alison and her amazing team for all their ongoing support for our community.
Below is an extract from the Make Lunch website https://www.makelunch.org.uk/
School holidays are not just a break from the classroom. For many, they are also a break from hot meals.
For the thirteen weeks of school holidays this year, many pupils in the UK will not eat a hot meal each day. At school more than 1.2 million pupils who may otherwise go without are eligible to receive free school meals. Outside of term time though, free school meals are not available and many pupils are left without regular hot food.
This is where MakeLunch comes in. During school holidays, our network of churches and community groups open Lunch Kitchens across the UK to provide free, healthy, cooked food for pupils who usually receive free school meals. We believe that every child deserves to eat a cooked meal every day. If you agree, we need your help.
Since we started in July 2011 we've cooked and served over 50,000 meals in more than 100 locations in England, Scotland and Wales. All our Kitchens are run by volunteers and are relying on donations of money and time to make things happen. And because we believe that one meal for one child makes a difference, we know that every single volunteer at every single Kitchen is important.
It's not enough though. We need to do more. With the help of our Patron, Lindsay Graham, we are also working to eradicate holiday hunger on a national scale as part of the APPG for School Food's Holiday Hunger Task Force. If you're in to social media, you can search using the hashtag for updates #fillingtheholidaygap.