Hello and welcome to Year 6 Pods!
We have now started back for our final term of Year 6 and have settled back into our new school routine really well. Our Pods are:
Pod 1 - Miss Mistry and Mrs Beasley (8:45am - 2:30pm)
Pod 2 - Miss Hill and Mrs Mogul (9:00am - 2:45pm)
Pod 3 - Miss Nash and Mrs Jordan (9:15am - 3:00pm)
Here are a few things you might need to remember:
Please keep equipment to a minimum; your child should only require their packed lunches and water bottles.

Clothes should be washed on a daily basis. If you are struggling to provide school uniform, your child may come to school in appropriate normal clothes.

School uniform only needs to be worn on top (shirts/tops and jumpers).

We will give prior notice before teaching PE lessons so your children can wear appropriate attire for the school day,

Please try to arrive at school close to your pod start time to avoid cross-over with other pods.
Year 6 Pod 1 & 3 Awards

This week, the Year 6 children in Pods 1 and 3 had fun creating and presenting their own awards for each other, Polar Bears and even for the teachers ! We reminisced about their time at Oakfield and all of the funny memories that they have, then we created awards based on these.
You have all been an amazing group of children and you have made each and every teacher proud over the years. Miss Mistry, Miss Nash and Miss Hill have loved teaching you over the last 6 weeks and you have made us laugh daily.
We wish you the best of luck in High School.
Miss Mistry, Miss Nash and Miss Hill
x
Our work so far...
In Writing, we have been looking at Kensuke's Kingdom and have built up skills towards a diary entry.
In Maths, we have begun Year 7 transition material. So far, we have looked at area and perimeter of compound shapes and are beginning mean, mode, median and range.
In the afternoons, we have been focusing on different topics in PSHE. First of all, we have explored our own identities and emotions.
We have also been staying active by completing workouts by Joe Wicks.
Pod 1's Den Building Extravaganza!
We were lucky in Pod 1 today as Mr Hickling found us a great den building kit that we could use during our break and lunch times to keep us entertained. It was safe to say Pod 1 all got involved and had the best time creating their own dens using bamboo sticks, tarpaulin and sticks/leaves from the school ground.
Take a look at our pictures and all the fun we had today!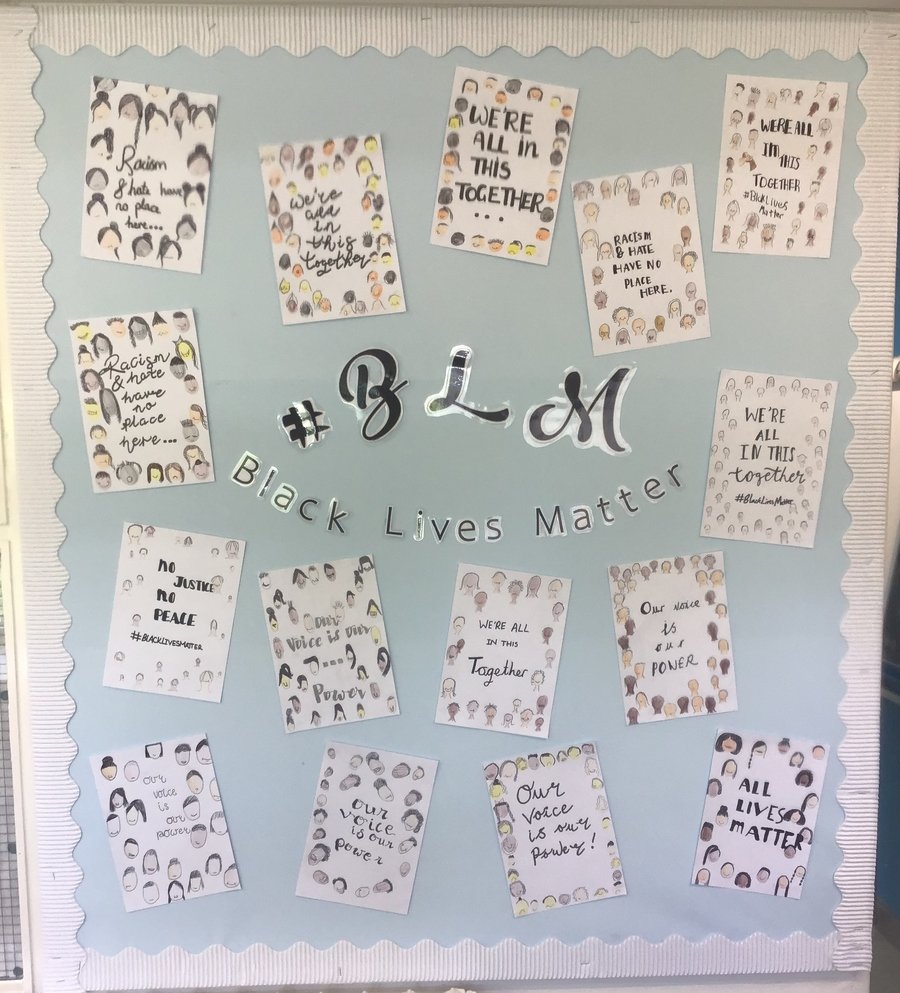 We have been looking at the Black Lives Matter movement. With this, we looked at our own identities, racism, discrimination and equality. We have also learnt about what has been going on in the media with racism and thought about the protests that have been happening.
At the end of the week, we each created a piece of artwork with inspirational quotes on them, which look absolutely amazing and share some very important messages.
Here are some examples of our work from this week: