We are proud of ourselves. We are proud of our community. We are proud of each other.
11B411 Ambassadors
Our 11B411 Ambassadors at OPA are Lucinda Abel and Tim Cole.
11 Before 11
Life is an adventure – and school should be too
Schools across the country have been gripped by the challenges presented by Covid-19: since lockdown we've been open every single day to children of key workers, and those who might be considered to be vulnerable. And from June, we've opened up to priority year groups – namely Year 1 and Year 6.
All children are due to be back in school from September and the logistical challenges are immense. But so too are the challenges around how we make sure we are giving our children the right diet of learning. The temptation is to focus solely on formal classroom learning – so much time has been lost, and there is much ground to make up.
And of course, it is essential that our children can read, write and add up to the level that you would expect for their age.
But at REAch2, school always has been about so much more. And it will continue to be about so much more in this coming year. Arguably, there has never been a more important time to focus on the wider experience of learning that school and education can offer.
Think back – what do you remember about your primary school days? Was it phonics lessons or learning how to do long division? Or was it a brilliant school trip where you camped under the stars? Or built a raft and crossed a lake? Or built and launched rockets from the playground?
These types of great opportunity – the memorable experiences that cement themselves into your psyche – happen in every school. What's different for us is that we consciously codify it into a set of promises so that it becomes something that EVERY child is entitled to.
And "11 before 11" is the way we do this; it's a set of promises that help our children to be in the driving seat in their own lives. They are a series of seminal experiences that we want every child in the REAch2 family to have experienced before they leave us to go to secondary school aged 11.
Across each of our 60 schools, we are ambitious for our children to have broad horizons in life and high aspirations for themselves. We want our children to be inspired and challenged so that each one can develop their unique potential to the full. 11 before 11 takes our children beyond the usual, to open opportunities in life and inspire them to move forward in their own life's adventure.
We are incredibly proud of "11 before 11". We know the impact that it has had so far, and strongly believe that its importance has only grown because of Covid19 and the impact that the pandemic has had on society, on our communities, and on our families. We will continue to invest in delivering it, so that every child's experience of school with us is exceptional and memorable for all the right reasons.
Take a look at what the promises are and which year group they are completed in.
Further down you will also find some photos of previous promises which have been carried out - but there are plenty more still to come!
You can now buy 11 Before 11 merchandise! 20% of every item bought will come back directly to Oakfield, which means we are able to offer more and more exciting opportunities for our children. Check out the website below to order hoodies, t-shirts, badges and more!
Year 2 - Hiking Hero
Our Year 2 children have completed their 'Hiking Hero' badge for 11B411!
They completed an exhausting walk, experienced a challenging scavenger hunt and finished the day off with a splendid picnic!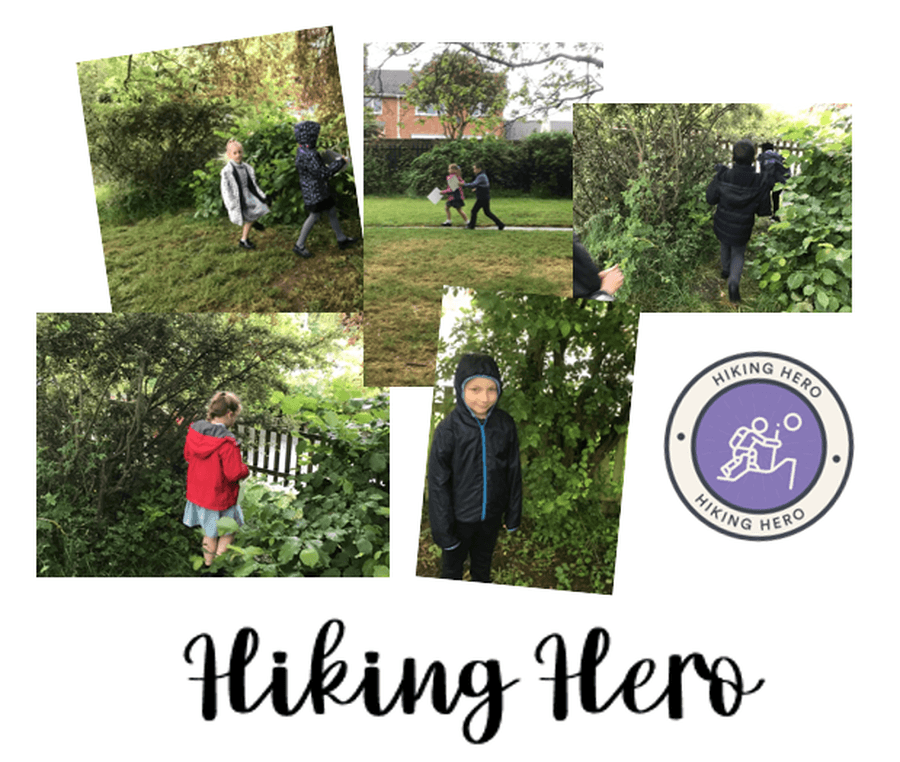 Year 1 - 10 Good Deeds
Year 1 have completed all 10 of their good deeds. Check them out!
Year 5 - Sleeping Under the Stars
Our Year 5 children have achieved their 'Sleeping under the Stars' in a Covid safe way! All children came into school in their Pyjamas and experienced a star projector. Then they investigated stars above our school before finishing the day off with hot chocolate, marshmallows, and a Brian Cox documentary.
Reception - Seeds to Supper
Our Reception classes have completed their 'Seeds to Supper' badge! They have grown their own vegetables and tasted a few too!
Year 5 - Shake it Up Shakespeare
Our Year 5s have completed their 'Shake it up Shakespeare' Badge for 11B411! They have performed a range of Shakespeare's plays and recorded it as a podcast to share with the school!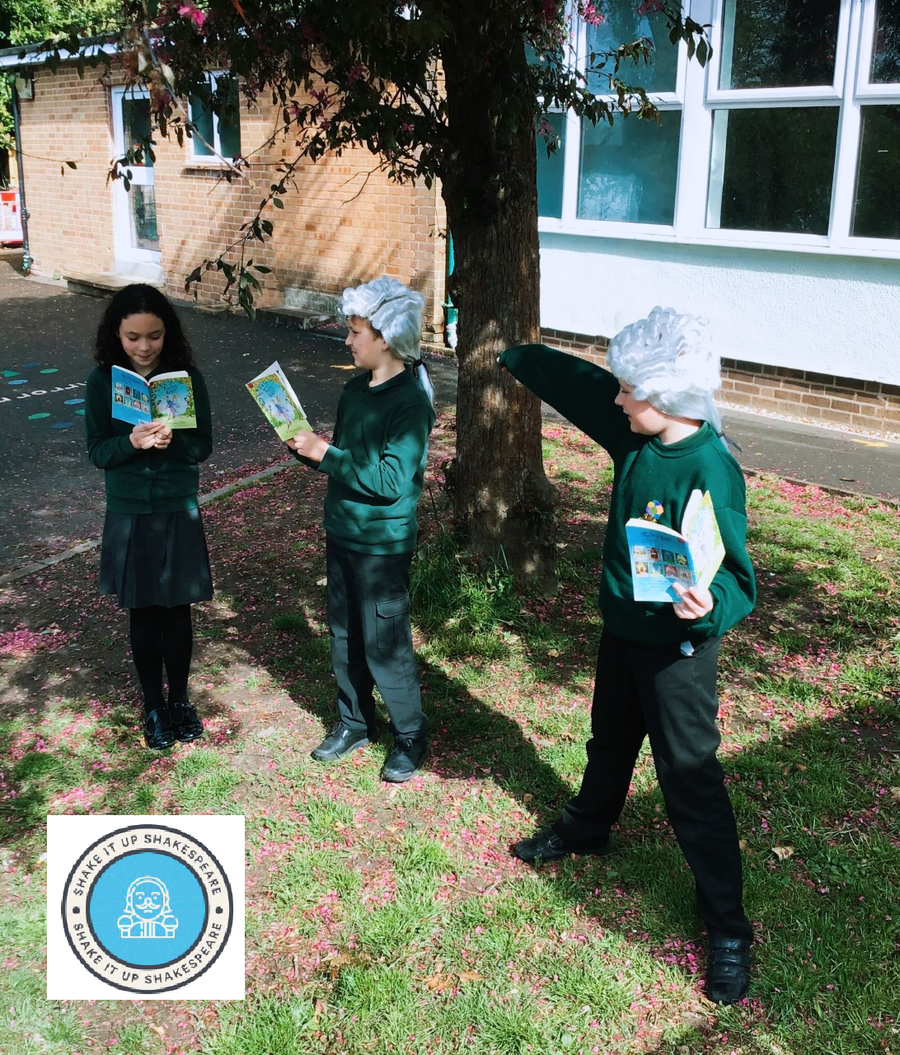 Year 4 - Flash Mob!
Year 4 have completed their 11B411 Flash Mob to celebrate returning back to school. They're so happy; they feel like they're walking on sunshine!
Year 1 - 10 Good Deeds
As part of Year 1s '10 Good Deed Badge', our Year 1s created Christmas cards and sang Christmas carols for Overslade Care Home.
Make or Break Reach2 Record!
As part of the promises for our children to fulfill 11 adventures before they leave aged 11, we have made our very own Reach2 Record! On January 31st 2020, we invited all children and adults to come into school with odd socks and crazy hair! By doing so, we now hold the record for the most number of people wearing odd socks and having crazy hair within Reach2's Academy on one day! It was fantastic seeing all the wild creations children and parents came up with!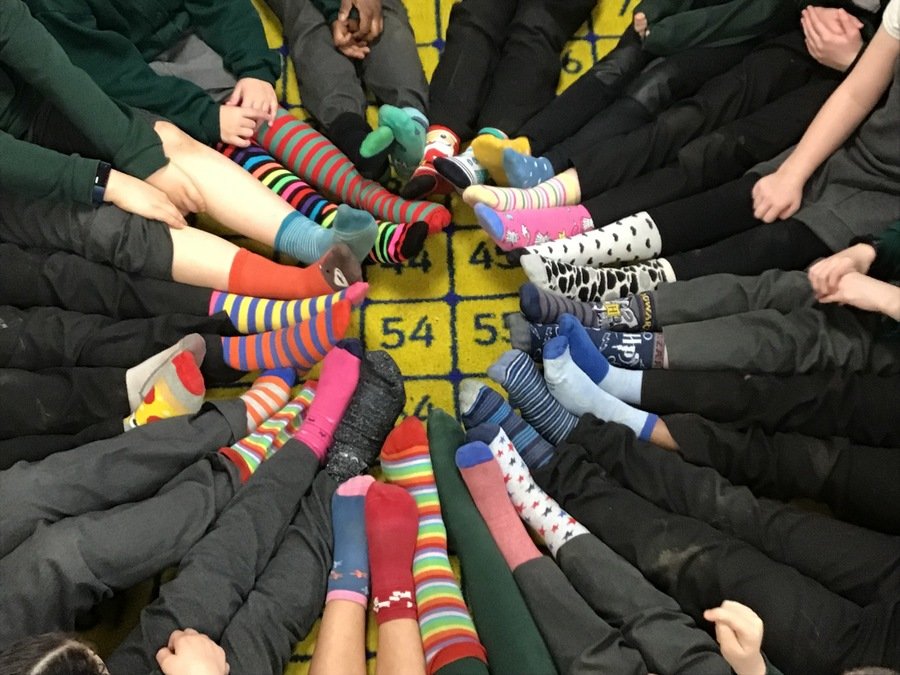 Year 6 - Cross a border (Ypres Trip)
We had a brilliant time in Belgium and learnt so much about World War 1. Check out the Year 6 Class page for more photos of our adventure.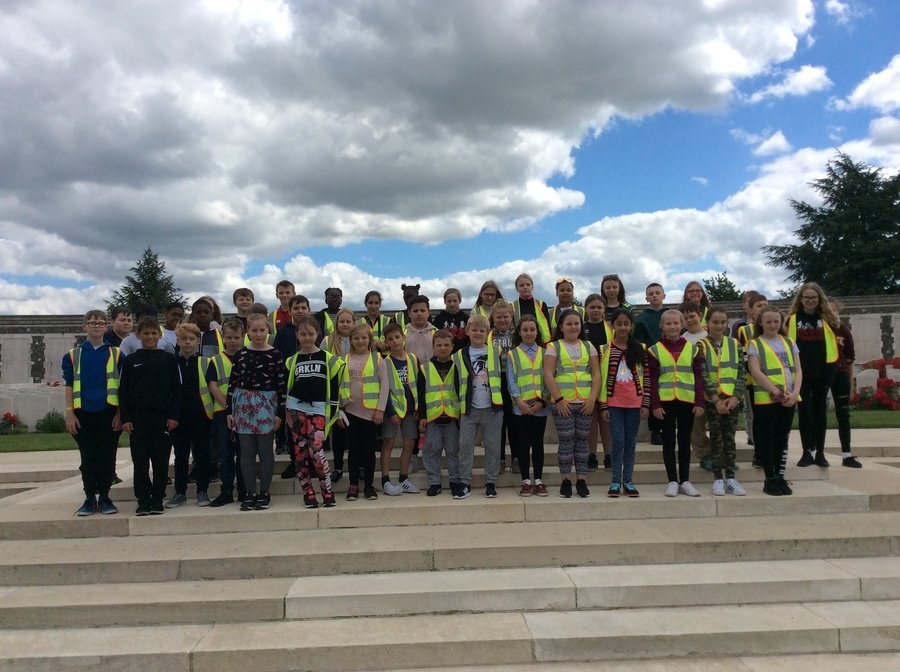 Year 5 - Messing on the water (Residential Trip to Condover Hall)

An exhilarating two night stay at an adventure activity centre featuring rock climbing, camp fire, survival skills, laser maze, grid stones and much more!

Year 2 - Horse Riding
Every year, Year 2 go to Woodbine Stables in Grandborough for their horse-riding trip. They learn how to care for a horse, how to groom, clean tack and then, most excitingly of all, get to ride on a horse! It is an experience that is loved by all!
Year 6 - Cross a border (Ypres Trip)
Including visits to Menin Gate, Last Post Ceremony, In Flanders Fields Museum, Tyne Cot Cemetery, Langemark German War Cemetery and more.